Administration Staff
Wayne Asplin
Role
Principal
Qualification
Involved in Education for a very long time as a teacher, senior teacher, DP and 19 years as principal
General Information
I was appointed to Ngahinapouri School in 1994 and I may be slightly one-eyed but Ngahinapouri School is a great place to be. It is staffed by enthusiastic, talented teachers, with a very supportive community that has strong values and the expectation that their children will do well.
In my spare time I enjoy sport either playing, coaching or watching, reading and spending time with my family.
Adriana Whautere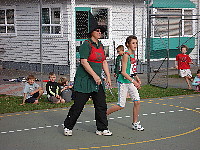 Role
Office Manager
Qualification
Lots of years teaching and lots of the years in the office
General Information
Come and see my smiling face,
I work in the most amazing place.
Ngahinapouri is the school.
It really is simply cool.
I meet and greet and try to inform.
I'm glad I don't wear a uniform.
With a smile I try to answer your query,
My job is fun doesn't make me weary.
Come in and see me sometime.
I ain't so good at writing rhyme.